Hi everyone it is Milli here just in from a wonderful vacation in sunny Queensland. I have come home to wet, windy, winter and with a bit of luck the weather will start to Spring back into life as from the first of September, when it is officially Springtime here.
My challenge for all this week is the theme of Together and I chose a pair of Rainbow Lorikeets in my photo above to represent this theme. I used a fresco on my original photo to give this unique effect and I hope that you all like it.
Together for the birds on the Gold Coast of Eastern Australia, where I have stayed, is a noisy Cacophony of chatter when the birds all come together at dusk, noisily calling and eating in a frenzy, before they roost for the night.
The trees all along the foreshore were filled with these bright and colourful birds and this for me added to the magic of my stay.
So look through your photos and let us all come together with some wonderful Images and Words this week using the theme--
Together.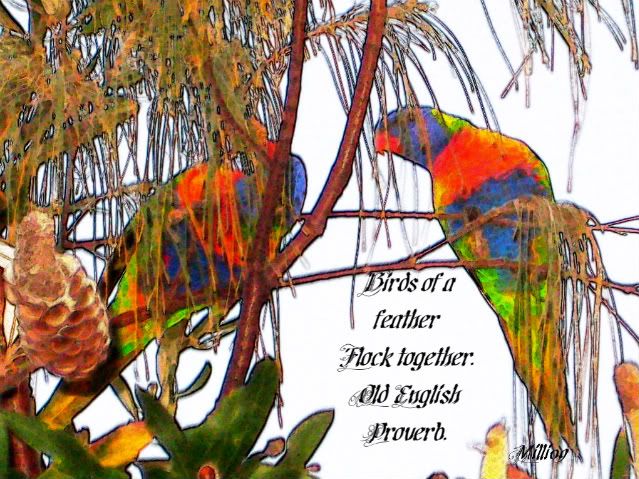 Each week we will post an original photo with words on it. The idea behind this group is to expand our minds through our photography.

Photos must be your own, but the words can be someone else's as long as credit is given after the words.

Your post can either be serious, or if you'd like comical, but never obscene .

Posts can either have one word on them,quotes, or full poems ... Your choice.

All posts are to be done on your own site in a blog form with a link back to it being left here.

New topics will be posted on Sundays.

Posts can be made through Saturday.

One post per person only please.
Please note this is week 17's theme...dang it! still in vacation mode!